Best Concise Linux System Administrator's Guide (SAG)
A handy guide can be a perfect companion if you are learning a new tool or system. In my case, this guide by Alex (draxeman), Lars, Joanna & Stephen was my guiding light when I was learning Linux administration.
This guide was written way back in the early 2000s and combined work done by Lars and Joanna as far as the early 1990s. It is one of the best concise guide on Linux system administration and I would highly recommend it.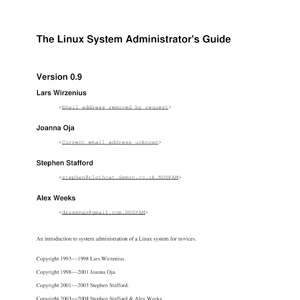 Although it was written long time ago, the basic concepts and principles stand good today also. Use this guide as a foundation and then build on it by either learning new stuff online or via newer guides.
Get this guide here and do not forget to thank the authors for their work. It is also available in this repo in SGML format.
Disclaimer: This guide is distributed under the GNU Free Documentation License and is protected by international copyright laws. All rights (including copyright) belong to their respective owners.