Service Host SysMain causing high disk or high CPU usage?
This article provides an instant fix for service host SysMain high disk usage and high CPU usage.
Windows 10 generally runs quite fast on a brand new system. Over time it tends to slow down due to various software installs and general maintenance issues.
In the past, the Windows service Superfetch was one of the primary reasons for high disk or high CPU usage. There are tons of user complaints online and suggestions for fixing this issue in Windows 10. The most popular and suggested solution was to disable the service host SysMain (Superfetch) service entirely.
All of them worked well until Microsoft decided to pull a fast one on us in the Windows 10 October Update.
For some reason, Microsoft renamed the service as SysMain. The service host SysMain does the same thing as the erstwhile Superfetch service.
What is service host SysMain also known as Superfetch? Should you disable it?
SysMain description in the Services management console says, "Maintains and improves system performance over time.". It runs in the background and optimizes system performance. It does this by learning app usage patterns and preloads apps and programs on your computer.
Unfortunately, it eats up a lot of CPU power and causes high disk usage. It is not uncommon to see service host SysMain using 100% CPU. This slowness is more prominent on systems with SSDs (Solid State Drives) since they are extremely fast, and any benefit of optimizing load time is in vain.
On computers with slow hard drives, preload can help improve the overall responsiveness of the system. On such devices, you are better off letting the service run in the background.
Microsoft does not recommend disabling this service. But if you are the kind of person who likes to be in control, you can consider disabling this service to improve runtime performance.
It may be worthwhile to experiment and see how the system performs with the SysMain service on and off. You can compare the performance and decide which one works best for your system.
Also note, there might be other things that may be causing high disk usage or high CPU such as Windows Update service, disk optimizer, etc. Besides, anti-virus software can also slow down your system. Do consider these factors before disabling SysMain.
If you see service host SysMain high disk usage or high CPU usage, then at least one process with the name "svchost" should be taking a lot of CPU or disk usage. Sometimes this will occur in conjunction with high RAM usage as well.
How to disable Service Host: SysMain on Windows 10?
There are multiple options to disable service host SysMain (sys main) on Windows 10. Choose the one that matches your skill level.
Disable SysMain via Services management console
Open the Services management console by typing "services.msc" in either the Start menu search box or the "Run" command dialog.

For the Start menu, press the Windows key and start typing.
"Run" command dialog can be opened by pressing Windows and "R" keys together.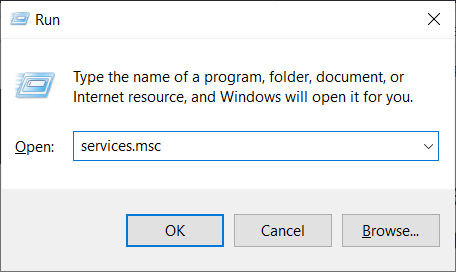 In the Services management console, you will see all the services running on your system. Find SysMain in the list and ensure the description matches "Maintains and improves system performance over time.". Hint: Click on any service and start typing "SysMain". You will be navigated to the right one quickly.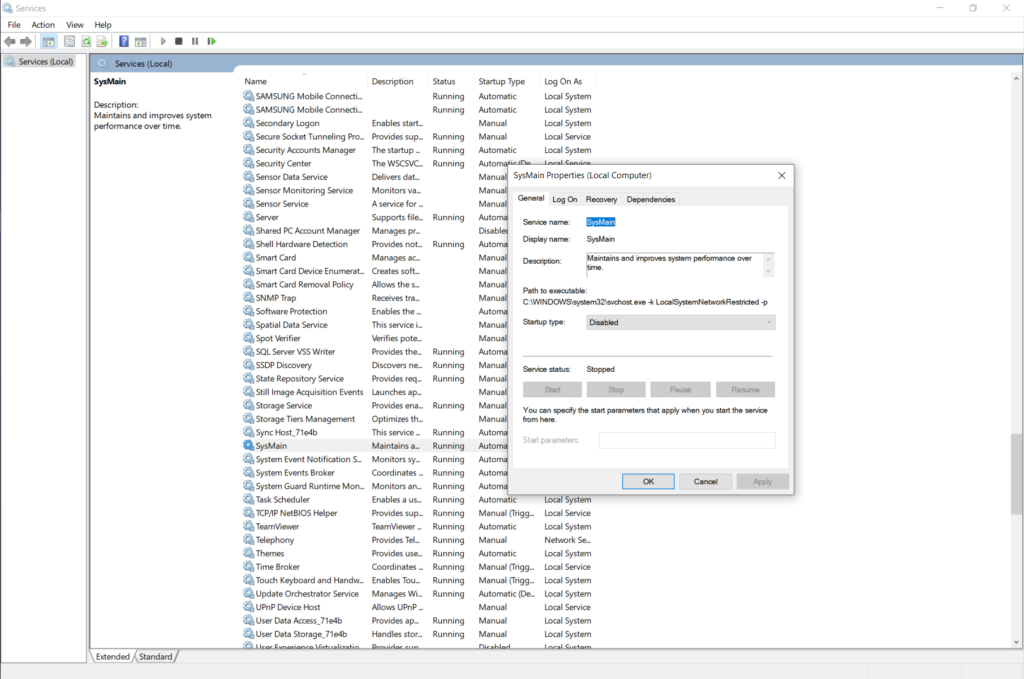 Right-click on the service and select stop. It will stop the service immediately but does not disable it altogether. If you reboot, the SysMain service host will start running again.
To disable completely, right-click and select "Properties.". In the "General" tab, find "Startup type" and select "Manual" from the drop-down.
Click "OK" to save and close the Services management console.
Restart your system and navigate back to the Services management console to check if the service is running. In the services list, the status column should be blank if the service is not running anymore.
Disable SysMain using the command prompt
This one is for the geeks. Open the command prompt in elevated mode. Press the Windows key and type "cmd". Right-click on "Command Prompt" and select "Run as administrator".
Disable boot-time startup of the SysMain service by typing "sc config "SysMain" start=disabled"
Stop the running service by typing "sc stop "SysMain".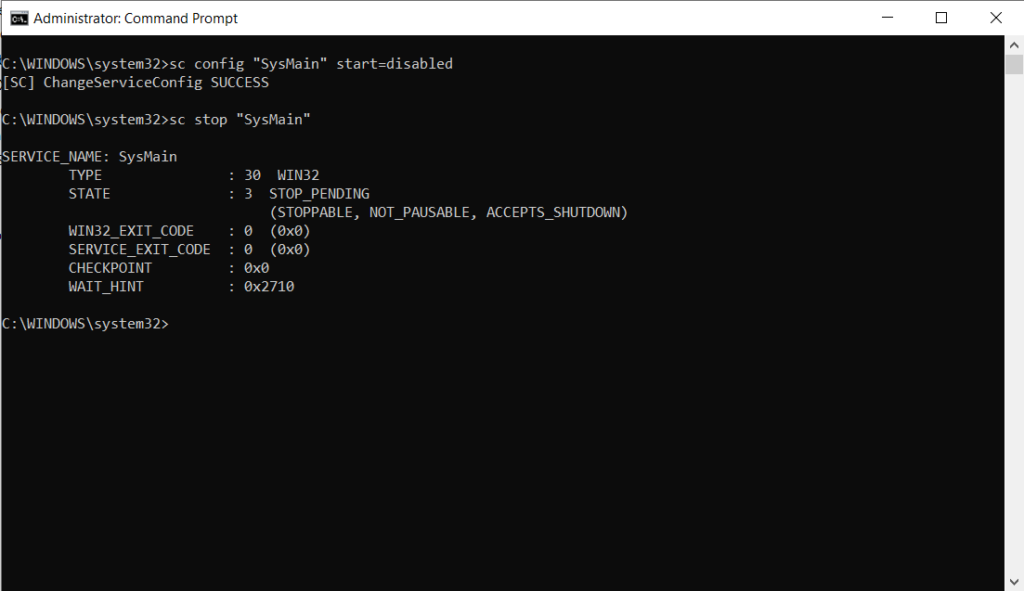 Restart the computer and verify service is stopped by typing "sc query "SysMain"".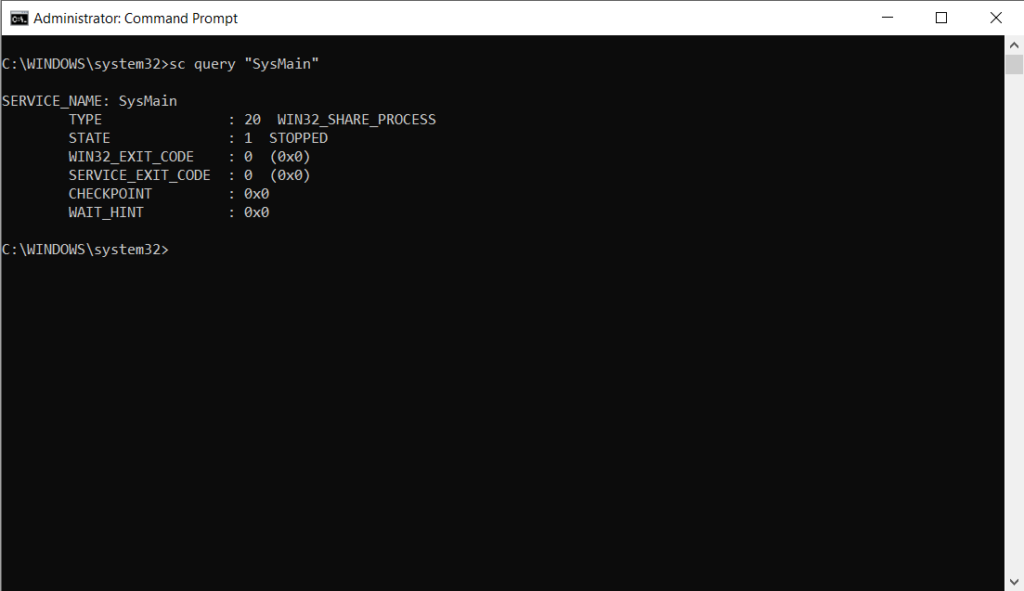 Disable SysMain via the Windows Registry
This option is only for advanced users. Editing the Windows Registry can cause a system failure. Be extremely careful when using the Registry Editor
Open Registry Editor – Press Windows + "R" keys and type "regedit"
Go to HKEY_LOCAL_MACHINE\SYSTEM\CurrentControlSet\Services\SysMain.
In the right pane, double click on Start and set it to 4.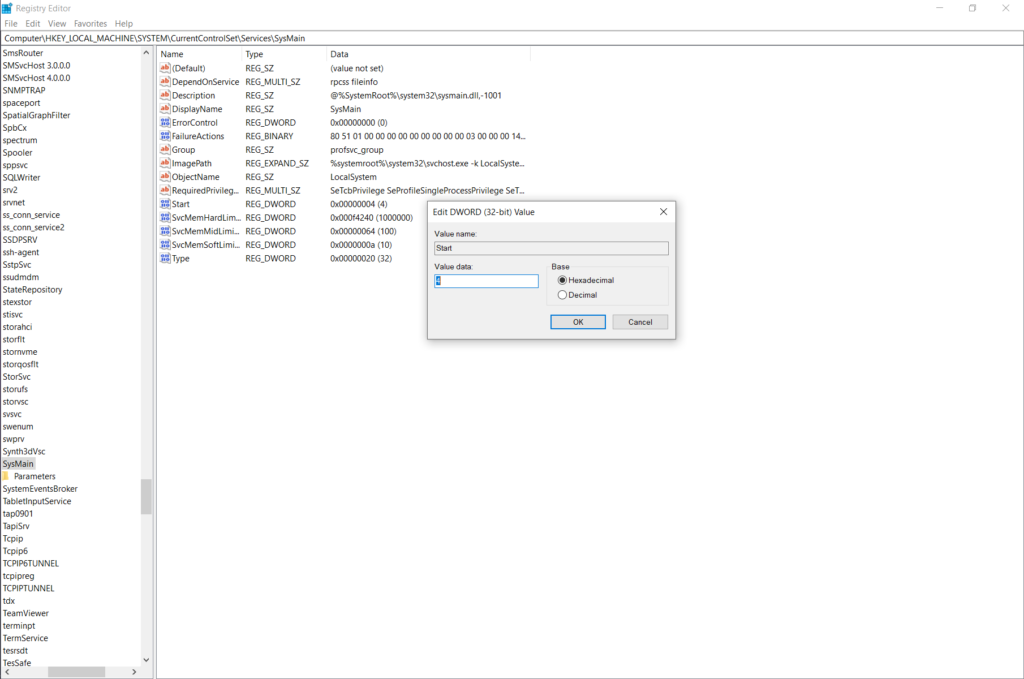 Close Registry Editor and reboot your system.
Final Thoughts
Again, Microsoft does not recommend disabling this service. If your system is exhibiting high disk usage and high CPU usage, it is worthwhile to explore it.
It is effortless to disable the SysMain service host in Windows 10 and might significantly improve system performance if you have an older computer or laptop.
Drop a comment on this article if it was helpful.